VIP ZONE - Equestrianism in a prestigious space
We have prepared two packages for our VIP guests: VIP and VIP GOLD - two attractive and exclusive spaces that provide the perfect place to hold business talks and negotiations, build a series of new contacts or simply spend quality time with the family. Check out our VIP Hospitality CAVALIADA TOUR 2023/2024 offer and arrange meetings with your clients at the largest equestrian event in Poland.
Equestrianism in a prestigious space - book a VIP Table or buy a ticket to the VIP Stand!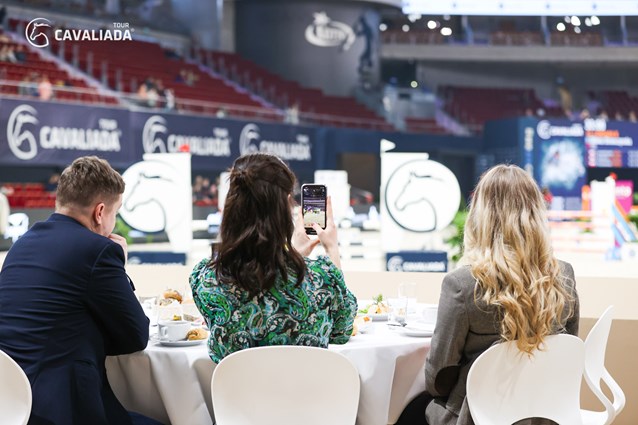 A business meeting at CAVALIADA? Thanks to the VIP Zone, it's possible.
Book VIP PACKAGES for the largest equestrian event in our country.

Strefa VIP to doskonałe miejsce zarówno do spotkań biznesowych, utrzymywania relacji jak również nawiązywania nowych kontaktów. To idealna przestrzeń do rozmów połączonych z dobrą zabawą, a unikalny wystrój sprawia, że nasi goście mogą czuć się wyjątkowo podczas wydarzenia.

The VIP area is the perfect place for both business meetings, maintaining relationships and making new contacts. It is an ideal space for conversations combined with fun, and the unique decor makes our guests feel special during the event.


Only customers who have purchased VIP PACKAGE or VIP GOLD PACKAGE are allowed to enter the VIP area.


We have prepared two packages: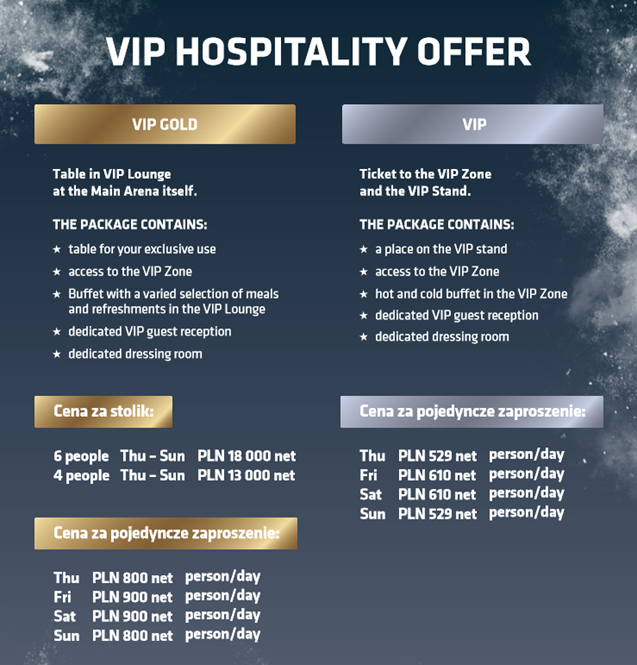 The number of exclusive tables in the VIP GOLD PACKAGE is limited.
Two packages, or two attractive and exclusive spaces:
1).
The VIP GOLD PACKAGE includes six and four-person tables with a perfect view of the main arena, the highest comfort of participation in the event, proximity to the equestrian excitement, snacks and drinks and meals served throughout the day. In addition, each guest who has purchased the VIP GOLD PACKAGE can sit on the vip stand and relax in a specially arranged area outside the main arena.


Reservation of tables only with the coordinator - Weronika Walkiewicz +48 691 029 067
VIP GOLD PACKAGE services are exclusively for our sponsors and VIP guests who have booked in advance.
2).
The VIP PACKAGE is a comfortable catering and lounge space where our guests can relax during breaks from the competitions.
The open configuration, comfortable couches, and the possibility of conversation over coffee allows participants not only to relax for a while, but also to talk quietly and have fun. The zone is connected to the VIP stand, where you can watch the sporting struggles.


We provide dedicated reception and locker rooms for all of our VIP clients, as well as catering in the form of snacks and chef's meals.