All current information about CAVALIADA!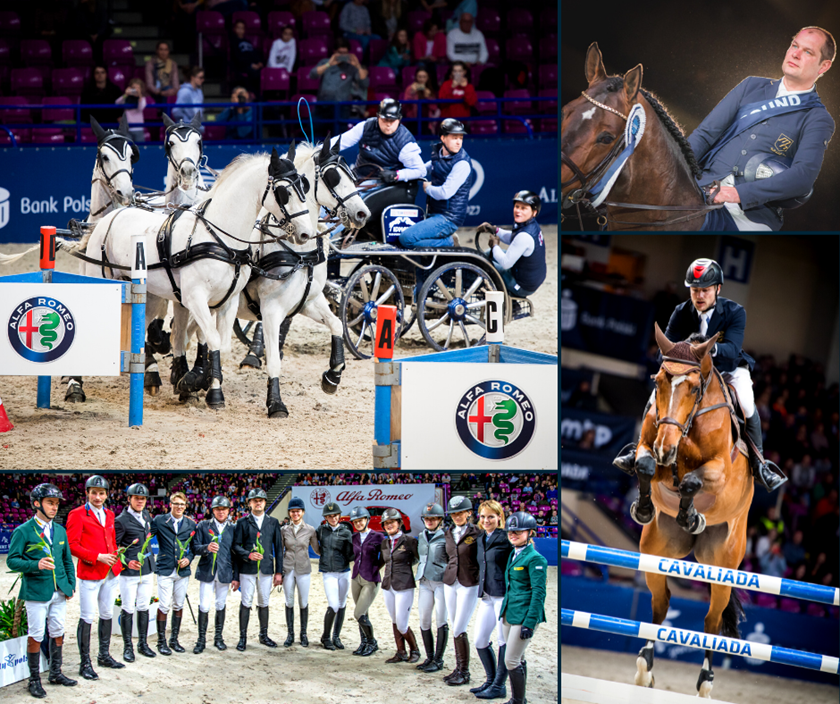 CAVALIADA Warsaw is rivalry in 4 equestrian disciplines:
Immergas Dressage Tour - dressage
Traf Eventing Tour/ Polish Indoor Eventing Cup
CAVALIADA Driving Tour/Polish Indoor Driving Cup – Four-in-hand
CAVALIADA Tour/World Cup Central European League Final – showjumping
CAVALIADA is an international equestrian show, including four disciplines: showjumping, driving, eventing and dressage. The main goal of CAVALIADA is to popularize horse riding in Poland, primarily as a sports discipline, but also as a form of recreation and active leisure.
CAVALIADA Tour is the largest series of international indoor competitions authorized by the International Equestrian Federation (FEI). The event takes place in four cities: Warsaw, Lublin, Poznań, Sopot and Kraków.
Discover all 3 dimensions of CAVALIADA
SPORT – CAVALIADA is an exciting sporting spectacle at the highest level. During CAVALIADA shows, showjumping riders have the chance to fight for valuable points for the world ranking! Additionally, the shows in Poznań, Warsaw and Kraków are counting for the World Cup Central European League with the big finale taking place in Kraków.
SHOW – a fixed point of each CAVALIADA event is a block of shows and attractions for the public. From the presentation of Arabian horses, through the hucul horse driving, to the Polish Championships in free jumping for polish warmblood horses. During the previous years, the audiences had the chance to admire the performance of La Pattat Dutka & Franczak Horse Show – the beauty and precision of some of the hardest dressage elements in a magical arrangement of film music combined with the energetic and crazy evolutions on horses in full gallop to rock&roll.
FAIR – CAVALIADA Expo is an Equestrian Equipment and Accessories Fair. The subject of the fair covers everything related to equestrianism and an active form of recreation: equestrian clothing and equipment, stable equipment, horse care and supplies, vitamins, feed, souvenirs, trade publications and services.

The competition runs from Thursday to Sunday. The program always includes classic show jumping classes, special ones such as Speed ​​& Music, Puissance and Venus vs Mars in a new formula. There are competition for the best pony ridersin Poland, as part of CAVALIADA Future. Eventing fans will surely like a cross-country in an indoor arena! During the event, we will also cab see two classes in four-in-hand driving and dressage at the Grand Prix level - CAVALIADA Dressage Tour. The program also include shows.

Can't be there with us? Be with us on-line! Buy access to PPV broadcasts from all events taking place in the Main Arena! See the rides of top athletes! Listen to the announcer's commentary and feel the greatest riding emotions! During breaks between competitions, we invite you to the professional CAVALIADA TV studio, where we will invite the best riders, trainers, breeders, influencers, and other specialists of the equestrian industry.