CAVALIADA Sopot 2023 – application deadline
Although the emotions after CAVALIADA in Poznań are still alive, and the organisers must already plan what will happen at the beginning of the new year during the next edition of the event. Hence, the application panel for the international show jumping competition scheduled for 2-5 February in Sopot is open today.CAVALIADA Sopot 2023 – application deadline
Sopot, which is known for years on the equestrian map of the world mainly from the CSIO competitions held here in the summer, will host a prestigious indoor event for the second time. The third stage of the CAVALIADA Tour 2022/23 will take place in the ERGO ARENA located on the border of the two cities of Sopot and Gdańsk. The modern infrastructure of the facility allows for the preparation of a spacious arena (70 x 35 m) for competitors and horses. Before the start, participants will be able to use two warm-up rooms (40 x 20 and 30 x 20 m). CAVALIADA in Sopot consists of four equestrian competitions: show jumping, dressage, driving and eventing.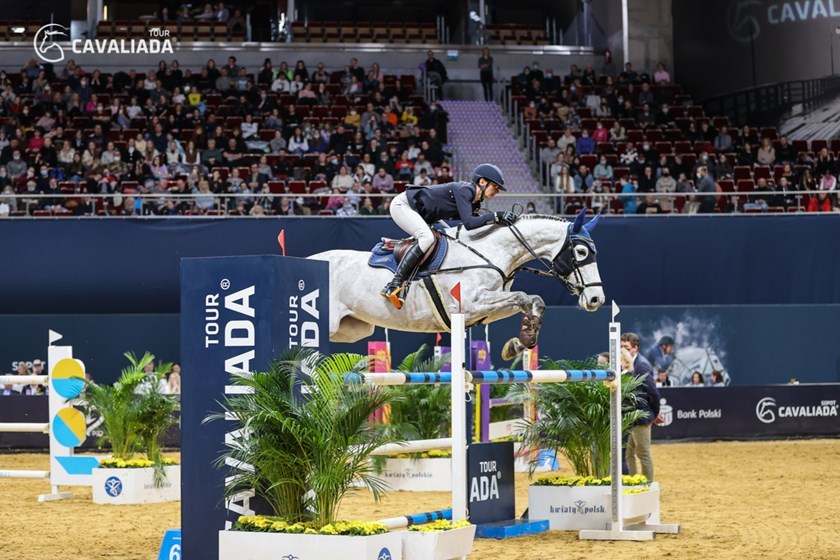 Propositions for competitions CSI CAVALIADA Sopot
The prize pool of the show jumping competition is PLN 386,000 and 12 competitions at various levels from 110 to 145 cm. The core of the sports program is CSI2* with two rounds and special competitions. In the big round after Thursday's prestigious Speed Masters 140 cm competition (a prize pool of PLN 32,000), the competitors will continue to fight for even higher financial bonuses and points in two rankings. Both the Friday 145 cm competition and the Sunday Grand Prix (up to 145 cm) have a pool of PLN 109,000, and count towards the FEI and CAVALIADA Tour rankings.
The middle round consists of two qualifying competitions (135 cm). On Saturday, competitors can choose between two different competitions − the middle round finals (a classic 140 cm competition with a prize pool of PLN 24,000) or the spectacular Speed & Music (a 135 cm speed competition with a prize pool of PLN 20,000). The CSI2* programme also includes the Power of Jump competition with a prize pool of PLN 24,000. Less advanced couples can take part in a small round (CSI1*) with obstacles of 125 cm.
After positive responses to the CSI Amateur – Owner's competition, the organiser decided to continue the competition for this group. Here, the competitors will have the opportunity to compete on the 110-115 cm arenas and will also be guests of the VIP zone.
Applications for Polish competitors take place via e-mail zgloszenia@pzj.pl. The deadline for applications is 12 January. Competitors classified in the Longines Ranking wishing to take advantage of the FEI Invitation System pool of places should apply by 5 January.
The preliminary program of the event can be seen on the organiser's website:
https://sopot.cavaliada.pl/pl/kibice/wazne-informacje/program-zawodow/
Tickets are on sale at www.tobilet.pl. Until 1 January 2023, fans can use the 'Regular' pool, where tickets for individual days from Thursday to Sunday are priced at PLN 59, PLN 99, PLN 139 and PLN 119, respectively.