5 teams took part in the class, for the prize of Land Rover Karlik, under the patronage of the Polish Equestrian Federation, and three qualified for the decisive second round. The best one today was the Polish champion Piotr Mazurek with Blizard, Inwencja, Jaśmin and Peloponez. Precision was key, and he was the only one to clear both of the demanding courses.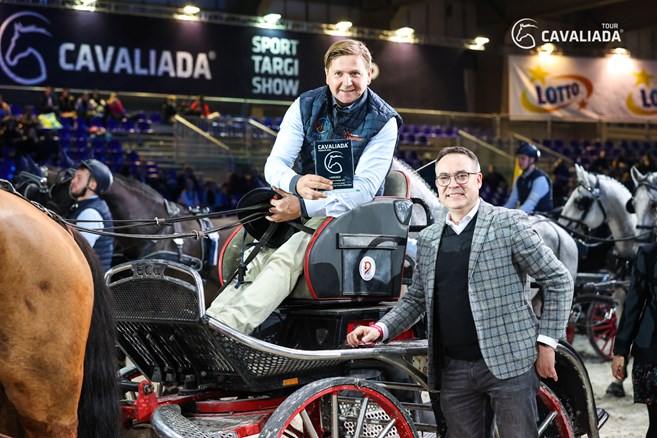 "The rivalry is getting more and more fierce, which is great for the sport and the public. (…) All of us want to be in the spotlight and feel the power of the amazing audience. The cheer from the stands really gives you wings. Each of us goes into the arena and gives more than 100%." – said the winner.  
A fast round despite mistakes secured the second place for Aleksander Fularczyk with Ares, Edje, Neptun and Nuta, and third went to Krzysztof Szczepaniak driving Maestoso Mano, Pluto XX-2, Pluto XX-21 and Pluto XX-3.
Can't be with us in the halls of Poznań International Fair? Watch the livestream – available at live.cavaliada.pl.
The main sponsor of CAVALIADA Tour is PKO Bank Polski, the strategic partner is the LOTTO brand, the Host City is the City of Poznań, and the partners are the Wielkopolska Region Local Government and the Polish Equestrian Association.
Results: https://zawodykonne.com/zawody/tarantevents/tour/891