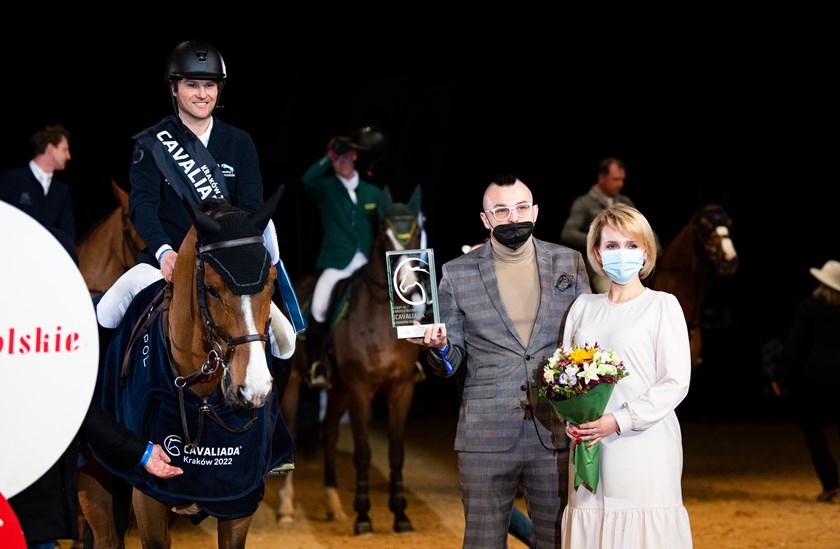 The Middle Tour Final, for the prize of Kwiaty Polskie, under the patronage of Baborówko Equestrian Association, saw 48 riders on the starting list. The first course included 12 fences, and did not leave any room for rest, because the horses had to take 15 efforts in 63 seconds. 11 combinations advanced to the jump-off. The rivalry was extremely fierce, and only four hundredths of a second separated the top three. Victory belonged to Michał Kaźmierczak – a rider from Kraków aboard Whoopy Boy. It was the 11-year-old gelding's first win in a ranking class.
"The course was demanding and there was almost no breathing space, but ultimately there were quite a few clear rounds. There was one more turn to take, but only Mateusz Tyszko with Zirocco Air took it and it didn't land him the lead, so practically all of us followed the same route and speed and tight turns were key. I went towards the end, so I took a risk and it paid off." – said the winner.
Second place went to Tomasz Miśkiewicz (POL) with Stakkato Lazar, and third to Mściwoj Kiecoń (POL) riding Digisport Codeina. As many as six of the Top 8 horses were bred in Poland.
The style judge for today's CAVALIADA Future competition, for the prize of PKO Bank Polski and under the patronage of Torpol, was no one other than four-time Polish Champion Jarosław Skrzyczyński. Four riders qualified for the jump-off in the MINI category, and the win belonged to Wiktoria Cwalina with S-Piorun, followed by Katarzyna Zawadzka with Wedog Pride N Joy and Zofia Wierucka riding Cykor. In the MIDI classification, the best one today was Zofia Janusz aboard Jagienka. Second place went to Jakub Mroczek with Vulcano, and third to Zofia Hart Dyke with Mississipi.
Jarosław Skrzyczyński riding Kentucky was the winner of the Small Tour class, for the prize of the National Support Centre for Agriculture, under the patronage of the Mayor of Krakow. The next places went to young athletes: Zofia Gintowt-Juchniewicz with Składnia and Roksana Nawrocka with Penny Lane.